NOT-FOR-PROFIT ORGANIZATIONS
November 2003
Proposed legislation: its impact on Not-for-Profit board governance
By Stanley Weiner
The not-for-profit sector is the third largest of the U.S. economy, surpassing banking, technology, and even federal government spending. This sector directly contributes $785 billion annually to the economy and employs one out of 12 Americans. The addition of $81 billion of indirect transportation, meals, child care, and other costs increases the sector's contribution to $866 billion annually.
New York State currently has approximately 46,000 registered charities. The New York State Bureau of Charities estimates that there could be just as many not-for-profits that are not registered. The assets controlled by these entities are significant and their cash flow is enormous, yet this area of the economy is largely unregulated.
Financial Mismanagement and Fraud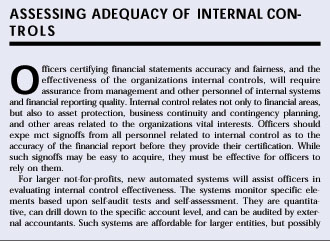 There are numerous examples of financial mismanagement and fraud in the not-for-profit sector, including misappropriation of funds, undue reliance on lines of credit, lack of timely and accurate financial reporting, and inappropriate compensation packages. The consequences of such misdeeds, for both the organization and the community it serves, can be severe. In the worst case, the collapse of a not-for-profit organization means loss of a vital service that the recipients cannot replace.
Example. A not-for-profit's interim financial reporting was over 90 days late. When the board reviewed an aging of the accounts receivable, management indicated that the late receivables were collectable. When pressed to collect the outstanding receivables, however, management found that certain invoices on contracts had been billed twice. In addition, other receivables were so old that the contract year had passed, making collection extremely difficult. The organization wrote off receivables in excess of $350,000. The cash shortage created the forced paydown of its line of credit and difficulties with funding sources on existing and future contracts. If the organization had had accurate and timely financial information, its board might have been able to govern more effectively and management might have intervened more effectively.
Proper Financial Management
Several steps can be taken to prevent or mitigate the impact of financial mismanagement. The first and foremost is finding qualified staff. Most chief executives in not-for-profits are program experts, very conversant with operations but at a loss when it comes to finance. Attracting qualified accountants and financial managers is extremely difficult, as they tend to gravitate to the for-profit sector.
Attracting qualified board members could also pose problems. Board members, besides having an interest in the services the not-for-profit provides, should contribute skills in one or more of three major areas:
General skills that further the organization's mission;

Financial skills to assist the board in monitoring financial operations and in making key decisions; and

Fundraising skills to assist in successful funds solicitation.
Unfortunately, attracting board members that fulfill the above criteria is as hard as finding qualified staff. Volunteer board members frequently are not qualified to deal with tough governance and management issues in their volunteer activities.
Developing accurate and timely financial information is another major hurdle. When bad decisions are made as a result of insufficient or inaccurate information, the organization can find itself in unexpected trouble.
Without a skilled board equipped with timely financial information, an organization's ability to guard against fraud is limited. An atmosphere of extraordinary trust usually exists between the management and the board of a not-for-profit. These organizations generally rely on a mix of paid and volunteer personnel, and volunteers are often not qualified or motivated to safeguard the entity's assets. In the absence of financial expertise, the organization has limited supervisory or analytical resources to determine if fraud or financial mismanagement exists.
Proposed New York State Legislation
The New York State Attorney General has recently proposed legislation to increase accountability and improve internal financial controls within the not-for-profit sector (see the Sidebar).
Concerns Regarding Impact
While the need for improved financial management and control is generally recognized by some within the not-for-profit sector, there are significant concerns about recently proposed legislation. The threshold of $250,000 for the requirements outlined within the proposed legislation is too low. Many entities of this size simply do not have the resources to both run programs and comply with complex reporting and internal control requirements. Many believe that the threshold should be in the budgetary range of $3.5 million to $6 million. There is also concern about a not-for-profit's ability to attract qualified financial personnel that can guide the organization in meeting the proposed legislation's requirements.
Another concern is the potential impact on the ability to attract board members. The requirement to have both executive and audit committees may be difficult for small boards. The requirement for certifications related to the review of the financial statements, and the establishment of internal controls adequate to the organization's needs, will be difficult criteria for any board to meet. Board members are volunteers with an interest in the organization's program or mission. Most do not have financial expertise. Many small not-for-profits, and even some large organizations, cannot attract board members. Additional requirements may negatively affect the recruitment of interested individuals, especially as officers.
Board members would be expected to challenge management and require verification of matters related to financial control, where they might not have done so before. The potential friction between the parties is a goal of the Attorney General's office.
Assistant Attorney General William Josephson, head of the Charities Bureau, has commented, "The statute is trying to create tension between the audit committee and management." Josephson went on to say that the fact that the board members are volunteers is irrelevant. "If you have a president or treasurer's title, we [the Attorney General's office] expect you to stand up to the plate and take a swing, whether you are paid or not … Volunteer board members are going to have to learn some new skills."
While the board should be more demanding and challenging of management, it would be counterproductive to have an adversarial relationship. A working relationship requires management to understand its responsibilities, possess the resources to fulfill them, and understand what the board needs to be effective. In addition, the board must require that management provide internal controls that are sufficient to safeguard the organization's assets.
Improvements Needed
While the proposed legislation has not been passed, it is probable that there will be changes in the governance requirements for not-for-profits. Even absent legislation, it is fair to say that the relationship between many not-for-profit organizations' board and executive management, as it relates to financial reporting and control, requires substantial improvement. Improvements could occur in the following areas:
Education. Board and management frequently need help in learning about financial controls and systems, such as budgeting, financial reporting, cash flow projections, and using lines of credit.
Financial controls. The following are possible financial control initiatives a not-for-profit organization could implement:
Introduce processes and procedures that protect assets, limit liabilities, and curtail abuse of personal expenditures; including cash controls, monitoring fixed assets, setting up an approval process for incurring liabilities and bill payment, and limitations on credit card use.

Integrate the financial department into the entire organization to promote more efficient operations. Operational decisions must be evaluated upon their financial merits, and the financial department must view itself as more than just recording transactions and generating financial reports.

Segregate the duties of financial and executive personnel to the greatest extent possible, so that no one person has control. Employees should be encouraged to report to the board any suspicion of wrongdoing. Where duties cannot be segregated outside auditors should increase their scrutiny.

Train management and the board to be alert to potential areas where fraud could exist, so that board members, particularly the audit committee, understand what is expected of them. They also should be aware of external resources available to help fulfill their function.

Assist the organization in the development of an accounting manual that details the responsibilities of the various financial functions, as well as actual accounting function processes. This manual should be a common reference for the audit committee, the accounting department, and management.
Audit committee training and assistance. The members of not-for-profit audit committees often lack the background and experience to be properly effective. The following areas may need focus:
Understanding the purpose, nature, processes, and outcomes of an audit.

Using the auditors to investigate and conduct thorough analyses of selected areas.

Reviewing and approving the annual financial statements and auditor's reports. n Establishing standards for signoffs and required certifications. Officers that must sign off on required certifications will in turn require signoffs from key staff members; the issue is the effectiveness of these certifications. Procedures must be established to provide assurance from internal and external sources (see the Sidebar).

Meeting with the auditors independently of management. A board that challenges the accuracy of financial statements and inquires about the quality of financial controls will generate friction with management. This could be due to both a lack of understanding and an inability to communicate both questions and answers. A dispassionate intermediary can be essential in resolving difficult issues.
Improving the financial system. Many not-for-profit organizations have rudimentary financial systems. The proposed legislation will provide incentives for improved accounting systems. The goal should be not only to improve financial reporting and control, but also to provide management with more useful information.
---
Stanley Weiner, CFE, CPA, is a partner at Cornick, Garber & Sandler, LLP, New York, N.Y. He has been a president and treasurer of a not-for-profit.
---
Editor:
Robert H. Colson, PhD, CPA
The CPA Journal
---
The CPA Journal is broadly recognized as an outstanding, technical-refereed publication aimed at public practitioners, management, educators, and other accounting professionals. It is edited by CPAs for CPAs. Our goal is to provide CPAs and other accounting professionals with the information and news to enable them to be successful accountants, managers, and executives in today's practice environments.
Visit the new cpajournal.com.