Wireless Networks
By Matthew Derba and Joel G. Siegel
In Brief
Coming to a Company Near You
Wireless networking is fast becoming a viable alternative for entities that can utilize the advantages it provides. Bluetooth and Wi-Fi—two of the hottest wireless technologies—can provide businesses with enhanced connectivity and flexibility. For companies seeking to expand a computer network or make their employees more mobile, Bluetooth and Wi-Fi can provide a cost-effective way to maximize access to shared data and resources. Major technology companies are behind both standards, and the price and choice of products should only improve.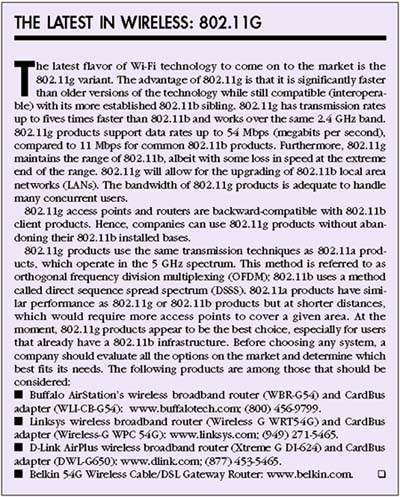 Two major developing technologies are changing the computer networking landscape: Wi-Fi (wireless fidelity) and Bluetooth. These two forms of wireless technology can change the entire infrastructure of business networks. Many new hardware and software products, produced by many technology companies, are equipped for use with Bluetooth and Wi-Fi. The Bluetooth Special Interest Group (SIG; www.bluetooth.com) and the Wi-Fi Alliance (www.weca.net) are groups formed to help effectively develop, integrate, and implement these wireless technologies globally. These two groups have created global standards for each technology, which must be met by any company producing hardware or software claiming to operate with Bluetooth or Wi-Fi.
Bluetooth
Bluetooth is a radio frequency specification for short-range data transfer. Any device containing Bluetooth technology, whether it be a handheld PC, cellphone, laptop, or standard PC, receives the signal broadcast by the network. Over 2,000 companies, including 3Com, Agere, Ericsson, IBM, Intel, Microsoft, Motorola, Nokia, and Toshiba, are members of the Bluetooth SIG. The Bluetooth-specified standard is intended to ensure that all devices supporting Bluetooth are able to communicate with each other regardless of the device. This is a huge step toward full integration. Using Bluetooth can also give a business more options in terms of purchasing new hardware and upgrades in the future. Because all Bluetooth devices are interoperable, businesses are not forced to go back to the same manufacturer. They can look for the best prices among alternative devices that support Bluetooth.
The current Bluetooth standard calls for the support of several elements. There must be general access among devices: they must be able to link, synchronize, and communicate with each other. Cordless telephony must be supported. This means that cellphones with Bluetooth must be able to operate as cordless phones when they are in proximity to their base station. For example, a cellphone would act as a cordless phone with a laptop or desktop as its base station. The serial ports on Bluetooth devices act much like wired serial ports. Each device would also be able to receive and transmit voice data, as well as send faxes. Dial-up networking between a cellphone and a laptop computer is also part of the standard.
Bluetooth networks. Bluetooth provides a 10-meter personal bubble when a 0 dBm radio is used. Using a +20 dBm radio, the link range can be increased to up to 100 meters. It supports the simultaneous transmission of information and voice data. A network of Bluetooth devices is called a piconet. Each piconet can support a maximum of eight devices. Each piconet has a master unit and slave units. The master unit synchronizes all of the other units, the slaves. Piconets may be integrated to form a scatternet by setting up a master device to synchronize several piconet master devices. Therefore, the master device of a piconet can also be a slave in a scatternet. The gross data transfer of Bluetooth devices is 1 megabyte per second, whereas the actual data rate is 432 kilobytes per second. Bluetooth technology is as secure as 128-bit public/private key authentication, and it supports good encryption.
Practical uses. The most attractive feature of Bluetooth is that all products containing this technology will work together. All manufacturers implementing Bluetooth into their products must get them tested and certified, to ensure interoperability. For businesses, this allows information to be shared across all the computer hardware integrated in the network. Users will be able to synchronize their mobile computer with their desktop simply by placing the mobile computer near the desktop. Mobile workers can use Bluetooth to make a cellphone in their pocket serve as a wireless modem for their laptop. The best part is that this synchronization will be unconscious and automatic when the devices are within a certain range of each other.
Currently, Bluetooth's most practical uses are its abilities to wirelessly synchronize devices and to serve as small networks. Its range limits its ability to serve the needs of large networks. For small businesses or sole practitioners which require smaller networks, Bluetooth may be more appropriate. Users can coordinate each device on the network to work more efficiently.
Wi-Fi
Wi-Fi, also known as 802.11b, a, or g, has a longer range and greater bandwidth capacity than Bluetooth (the a, b, and g varieties of Bluetooth operate at different speeds and are not necessarily compatible). Many large corporations use Wi-Fi devices to extend standard wired networks to areas such as training classrooms and large public spaces. Wireless networks may be accessed remotely from workers' homes or other offices. Wi-Fi is also used to bridge the information flow between offices in different buildings.
Wi-Fi networks are increasingly found in public places such as hotels, airports, libraries, and even coffee shops. When in an area that supports Wi-Fi, a Wi-Fi certified product is automatically linked to the network. Wi-Fi is ideal for mid- and large-sized companies. It enables businesses to boost productivity and efficiency through constant, real-time information flow, sharing of data, and uninterrupted communication. Users can work on projects or prepare for meetings in the airport while they are waiting to board their flight. With wireless technologies such as Wi-Fi, companies can keep their employees, in or out of the office, up to date at all times. Members of the Wi-Fi Alliance plan to bring Wi-Fi to urban areas, central cities, and even major highways.
Another major benefit of Wi-Fi is the ease with which new computers can be added to existing networks. To add another wireless computer to a Wi-Fi network, all that is needed is to equip it with a Wi-Fi card. Furthermore, if a company needs to move, it will not have to abandon its network infrastructure or rewire its new office location. All that needs to be done is to simply unplug the base stations at the old office and install them at the new office.
Range and security. 802.11b transfers data at 11 MB per second. 802.11g, however, operates at speeds almost five times faster than that and is compatible with 802.11b products. As devices move farther away from the base station, data transfer rates decline significantly. Speeds at the maximum 802.11b range (about 1 MB/second), however, are still faster than most DSL and cable connections. This makes it more than adequate for receiving e-mail and browsing the Internet. A standard Wi-Fi antenna broadcasts from 750 to 1,000 feet outdoors in open spaces. In an office or indoor setting, the standard antenna range drops to 150–350 feet. Dense materials, such as metals, bricks, or stone, may affect the transmission of radio waves, and therefore affect a Wi-Fi broadcast. If the walls in an office are heavily reinforced, Wi-Fi devices may have difficulty transmitting from one room to another.
Wired Equivalent Privacy (WEP) is 802.11's encryption standard. WEP works by encrypting the data transferred between the Wi-Fi device and the Wi-Fi access point. A Wi-Fi access point is hardware or software that acts as a communication hub for wireless devices to connect to a wired local area network (LAN). They provide wireless security, while extending the accessible service range. In order for data that reaches the access point from the Internet to be protected, it must be encrypted by WEP before it is transferred to a Wi-Fi.
There have been several security problems with WEP, so the Wi-Fi Alliance is planning on implementing a new security standard named Wi-Fi Protected Access (WPA). WPA implements IEE 802.1X, a new standard being developed with better security.
Many corporations use Virtual Private Networks (VPN) to protect remote access to their wireless LANs. A VPN creates a secure virtual tunnel between individual workstations and the company's servers. This means that a secure connection is established from a Wi-Fi device, through the Wi-Fi access point, over the public Internet, through the company's access point, and to the company's hardware. Existing systems can be modified to use VPNs to support a Wi-Fi network. There are many different types of VPNs, some of which are very expensive. Microsoft, however, provides a very basic VPN for free with their server systems (see www.microsoft.com/ntserver/support/faqs/VPNSec_FAQ.asp).
A VPN encrypts any data transferred to company computers from outside the company network. VPN software also operates on remote computers and laptops. A VPN can give a company a lot of mobility. With VPNs, individuals can access information in company networks from anywhere. Companies can expand their networks to the homes of their employees. Employees can also access the network from places such as airports and hotels, enabling them to stay abreast of developing situations while out of the office.
In addition to a VPN, wireless networks have a standard technology called Remote Access Dial-Up User Service (Radius), used to protect access to wireless networks. In order for someone to access the network, she must input a valid user name and password. A key feature of Radius is that it may be used to provide different types of access levels. A company may use one Radius server to provide access to the Internet, another for network databases, and another for access to e-mail. Microsoft provides a basic Radius server with its server systems. Radius server software and hardware can be expensive.
One of the most formidable lines of system defense is the firewall. Firewalls work by blocking unauthorized users from accessing a company's internal network. Many Wi-Fi access points have built-in firewalls. In addition, all Wi-Fis include a network capability enabling a group of devices to share one Internet provider (IP) address, regardless of the Internet connection. This capability, called network address translation, creates new IP addresses for each computer in a group. These IP addresses are invisible to Internet users because they function separately under the cover of the original one.
Public Wi-Fi. Wireless networks are not only making their way into businesses, they are steadily expanding into many public areas. Wayport, a company that provides Wi-Fi to hotels, airports, and other public areas, is teaming up with companies such as 3Com, Sony, Sharp, and other members of the Wi-Fi Alliance. Major hotels, such as Four Seasons, Holiday Inn, Hampton Inn, Ramada, and many others, are working through Wayport to provide Wi-Fi in their hotels. With members of industry groups such as the Bluetooth SIG and Wi-Fi Alliance pushing the development of a global wireless infrastructure, more hardware is likely to hit the market. With hotels and airports around the world upgrading to wireless, companies that go wireless will be a step ahead.
The major problem with wireless technology is its price tag. The components for wired networks are still cheaper than wireless network components. Access points can cost up to $1,000 each. The cost of hardware that supports wireless connections can be easily two to four times more expensive than that of wired network components. The argument for going wireless, however, is that this higher cost for hardware is offset by the ease of installation and maintenance.
Accordingly, long-term costs to maintain the equipment are lower. There will be no expenditures to replace old wires. A wireless network can also serve as an expansion of a preexisting wired network. Companies using wireless do not have to hire electricians to run electrical wiring or install new outlets, nor contractors to drill holes through floors and ceilings. If the company is wireless, new hardware needs only to be turned on and it is instantly networked. A company has more flexibility in expanding the network. Adding new access points can be expensive, but should be necessary only for significant expansion efforts.
Another point to keep in mind is that wireless technology has not truly caught on yet. As more and more hardware is produced to support wireless, broader adoption of Wi-Fi is likely. Demand will grow, and prices of equipment will decline.
The Future of Wireless
Recently, the Bluetooth SIG contracted with the Zelos Group LLC research firm to project future demand for wireless technology. The group that performed the independent study is an advisory service firm that helps assess the nature and timing of the adoption of new products and services by consumers. The group predicts that Bluetooth technology will generate around $12 billion in sales through 2006. The study concluded that Bluetooth would likely be found in PDAs, headsets, handsets, notebook PCs, automobiles, and other devices to wirelessly access e-mail, the web, and corporate networks.
Shipping giant United Parcel Service has decided to implement a wireless tracking system into its operations that combines Bluetooth with Wi-Fi. UPS plans to issue Bluetooth bar code readers to 55,000 of its package handlers. This $120 million project is the first major wireless implementation of its kind.
The large-scale UPS implementation may be an indication of future trends. Combining the different strengths of Bluetooth and Wi-Fi may prove to be the most efficient way to build a company's network. Wi-Fi access points could be used to provide access to a network, and Bluetooth could be used to connect devices together. For example, an individual could use a Wi-Fi–equipped laptop to connect to a company network anywhere throughout the office. Information found on the network could then be transferred via Bluetooth to a handheld device or a shared printer.
Wireless systems have the features needed to alter the way in which people work. Through remote access, more can be done from the home and the road. Important information can be received in real time, virtually anywhere. Small and medium-sized businesses can now have the same—and many times better—technology as their larger competition. Real-time wireless data sharing is a realistic possibility for many different types of companies, including professional firms. The best part is that a small business can often install the wireless network itself; outside help for installation will rarely be needed.
---
Matthew Derba is an employee at Deloitte & Touche LLP and the former president of the Accounting Honor Society at Queens College.
Joel G. Siegel, PhD, CPA, is a computer consultant and professor of accounting and information systems at Queens College.