New generation, new challenges Institute of Management Accountants: Taking Charge of Its Future
By Tom Morris
In Brief
The 21st Century IMA
With 70,000 members and 300 chapters, the Institute of Management Accountants (IMA) is the world's largest organization dedicated to advancing management accounting and financial management serving individual professionaals and corporations. Founded in 1919 as an educational organization, IMA's stated mission is to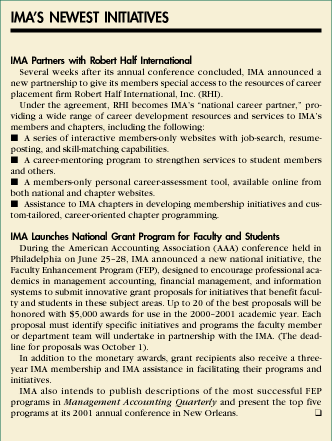 expand the professionalism of financial managers and executives involved in corporate accounting and financial management.
The cornerstones of IMA's programs include two professional designations: the CMA (certified management accountant) and CFM (certified in financial management), as well as continuing professional education, corporate training, special interest membership groups, and a national college program reaching 600 campuses. Professional publications include the monthly Strategic Finance and Management Accounting Quarterly. IMA headquarters are in Montvale, N.J., and its web address is www.imanet.org.
During the organization's recent annual national conference in Philadelphia, newly inaugurated IMA President Frank Minter and Executive Director David Schweitz met with CPA Journal Editor Tom Morris in separate conversations to discuss the association, its present and future, and their personal roles and plans.
AN INTERVIEW WITH FRANK C. MINTER
The CPA Journal: What path led you to the position of IMA president? That is obviously not something that just happens.
Frank C. Minter: I became actively involved in the organization about 15 years ago when I was appointed to a national committee. After chairing a series of committees, I was appointed a vice president, then president-elect, then president. The organization has given me a lot, and right now I'm fortunate to have the time to give to the organization. It's important to me to take this opportunity to give something back.
CPAJ: How has IMA changed over the last 10 years?
Minter: Our new members used to come in through the chapters, but workplace demographics have changed and people's priorities have changed. The chapters' role has diminished but is still important. Our certification programs--CMA and CFM--are becoming more important.
CPAJ: What are your priorities for your term as president?
Minter: I intend to focus on identifying--and then providing--services that our members want and need. We've been successful in recruiting new members, but retention is going to become more of a priority than it has been in the past. We're working with a firm called Keeping Members to develop a strategy in this area. One part of this effort is going to be making members better aware of existing services. For instance, IMA has 18 different e-mail exchanges for different areas of interest. Some are more popular and more effective than others. We want to examine why those variations exist and make members more aware of the lesser-known networks that are worthwhile but underused.
A second priority is our CMA and CFM certifications. I want to see their value better recognized by the corporate and academic communities. We're hiring professors for two-year terms to improve the quality of the teaching and waiving our certification examination fees as an added incentive.
The AICPA's proposed XYZ designation appears to closely resemble our CMA certification--which is 20 years old. The CMA is designed for the broad accounting and financial professional working for a corporation, and we've been working with the academic and corporate communities to establish the concept of the CMA as different from the CPA.
At this point, we don't know what we'll do about the XYZ. We aren't sure why the AICPA thinks the XYZ is necessary when we already have the testing mechanism in place for the CMA. We're also confused by the five-year experience requirement that is part of the current proposal. We're very willing to enter into a dialogue with the AICPA, but there hasn't been any to date. [AICPA President] Barry Melancon did call Bud Kulesza [IMA's 1999­2000 president] before the AICPA announced the XYZ proposal, to let him know about it and to explain that the AICPA felt that it was best for their organization.
CPAJ: What are the most important issues facing management accountants in the next three years?
Minter: Without question, the ability to keep up with the pace of change. We'll also emphasize helping finance professionals--a term I generally prefer to "management accountants"--become more accepted and recognized as members of the management team of the corporations where they work.
CPAJ: Do management accountants and IMA have any specific concerns about SEC "activism" in the area of earnings management?
Minter: Arthur Levitt is the most active SEC chair in history. He's been critical of the accounting profession, and in my personal opinion to some extent we've been guilty. I think the term "earnings management" is unfair because management has a responsibility to run the business. "Earnings manipulation" would, I think, focus more clearly on the improper activities that are at issue. I think a great deal of what the SEC has done under Levitt has probably been necessary. But I am concerned about how far the SEC might go, and I'm not sure we want to paint everyone with the same bad paintbrush. On the whole, I think that the condition of financial reporting in this country is good and that we have the best system in the world.
CPAJ: In a related area, how are management accountants responding to the recently released report from the Public Oversight Board's [POB] Panel on Audit Effectiveness?
Minter: One part is controversial: The panel was nearly unanimous, except regarding whether audit firms can also provide audit clients with nonaudit services such as consulting. It's unfortunate the panel couldn't reach a consensus on this vital topic.
Growth and the Future
CPAJ: How does IMA plan to extend its scope globally?
Minter: The U.S. representatives to the International Accounting Standards Committee [IASC] of the International Federation of Accountants [IFAC] are from the AICPA and IMA. IMA and our national committee on financial reporting will continue their work with the IASC. We're going to add a staff professional to work with our growing segment of international members. For example, a group of Ukrainian accountants visited us last year, and they were highly interested in our certification programs.
CPAJ: Technology is the theme of IMA's conference, and so far this year we've seen a major downturn in the technology sector of the market. What is your perspective, insight, or forecast?
Minter: This has been a difficult year for the stock market, but the fundamentals haven't changed and members haven't expressed concern about significant changes in the technology sector of the economy. We anticipate more change and growth, although maybe not as explosive as in the recent past.
CPAJ: What do you want your legacy to be?
Minter: If, when I walk to the podium at our national conference in New Orleans next year at the end of my term, I can feel that we've made gigantic strides in serving our membership and retaining members, I'll be very happy.
I need to emphasize how strongly I feel about what I said earlier: A major part of my job is to serve our membership and audiences. That includes determining their needs and improving two-way communication about what IMA is doing so our members--and future members--know that we exist, that we offer an array of services, and that they can tell us what they think of our programs and what else they want. I recently spoke in Des Moines to a group of colleges that were recognizing their top accounting students. One student told me he'd never even heard of IMA. I intend to change that. *
AN INTERVIEW WITH DAVID T. SCHWEITZ
The CPA Journal: What path led you to this new position?
David T. Schweitz: I was looking to make a change from what I'd been doing. Financial services isn't the kind of business it used to be. I wanted to do something very different, and over the last 10 years I'd become interested in trade and professional associations. What interested me about this position was that IMA is international.
The challenges attracted me as well. Before, no one--among either the volunteer members or the staff--was really in charge of serving the membership; that will change. We need to do a better job of customer service, and our student program needs more management. IMA also needs about 10,000 new members--we don't have a plan or timetable yet for how to get them--and a sales and marketing team.
CPAJ: What are your priorities for the first year of your tenure?
Schweitz: I intend to implement a reorganization and cultural change among the staff, including building the sales and marketing team that I mentioned. I estimate that this will take about two years. We as IMA staff need to be more proactive and involved in serving the members. For instance, no one on staff was directly involved in the organization's strategic plan. That type of thing will change.
My other priorities include addressing international membership issues and developing new products and alliances for serving our members and customers.
IMA's certifications are one of the organization's greatest strengths--they're our fastest-growing membership segment. We don't have more people with our certifications because we haven't spread the word well enough or fast enough.
In the education area, we're going to focus on certification education, strategic finance education, and other forms of continuing education, such as conferences and seminars.
CPAJ: Looking ahead one year, what do you see?
Schweitz: Big changes. My expertise has been and will be in management, and because I've worked on turnarounds before, I'm not put off by large challenges. I intend to be here a long time. I feel strongly committed to the people who brought me here. Bud Kulesza became interim executive director after the departure of the last executive director [Ron Swanson], who was here about 18 months. In contrast, his predecessor was here for about 10 years. At this point, a return to stability is important.
CPAJ: What do you want your legacy to be?
Schweitz: First and foremost, positive annual membership growth. Also, fiscal responsibility across every level of the organization. And within 10 years, I'd like us to have a well-developed student program in place.
---
Tom Morris is an editor of The CPA Journal.
---
---
---
The CPA Journal is broadly recognized as an outstanding, technical-refereed publication aimed at public practitioners, management, educators, and other accounting professionals. It is edited by CPAs for CPAs. Our goal is to provide CPAs and other accounting professionals with the information and news to enable them to be successful accountants, managers, and executives in today's practice environments.
©2009 The New York State Society of CPAs. Legal Notices
Visit the new cpajournal.com.
 

Visit the new cpajournal.com.