July 2000
G4+1 ISSUES COMMUNIQUÉ ON NEW ZEALAND MEETING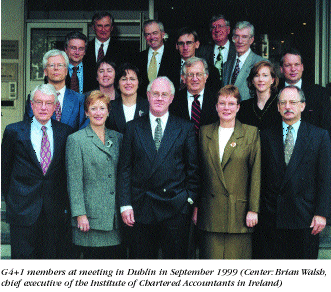 The G4+1, a group of representatives of the national accounting standards-setting bodies of Australia, Canada, New Zealand, the United Kingdom, and the United States and the International Accounting Standards Committee (IASC) recently issued a communiqué on the proceedings of its April meeting in Queenstown, New Zealand.
The group reviewed and discussed draft papers on various ongoing projects, including how to measure share-based compensation based on the fair value of the options or shares at the vesting date with accrual of compensation expense over a related service period.
The G4+1 also discussed the IASC's recently released issues paper on insurance accounting, expressing support for the IASC's efforts and the general direction of the steering committee's conclusions.
The group expects to publish papers in the near future on the equity method of accounting and accounting for share-based compensation.
At the next G4+1 meeting, to be held in Boston in late July, the group will discuss--
* new basis measurement
* liability recognition
* financial instruments
* measurement alternatives for nonfinancial items
* revenue recognition issues
* project updates on intangibles, leases, and debt/equity
* possibilities for convergence of existing national accounting standards. *
---
---
---
The CPA Journal is broadly recognized as an outstanding, technical-refereed publication aimed at public practitioners, management, educators, and other accounting professionals. It is edited by CPAs for CPAs. Our goal is to provide CPAs and other accounting professionals with the information and news to enable them to be successful accountants, managers, and executives in today's practice environments.
©2009 The New York State Society of CPAs. Legal Notices
Visit the new cpajournal.com.