July 2000
RESEARCH SHOWS CORPORATE CONTROLLERS REINVENTING THEMSELVES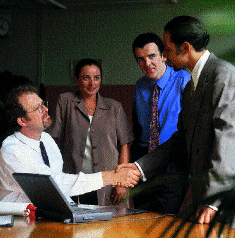 Corporate controllers are making a determined effort to move out of their back offices and onto executive row, according to a study conducted by Gunn Partners and Georgia State University.
The ongoing study, begun in 1997, finds controllers reinventing themselves as "business partners--key advisors who can sit at the planning table with the CEOs and CFOs and provide valuable insights into the company's strategic planning."
The finance leaders research sees controllers shifting their competencies away from the traditional auditing area and toward managerial skills. Major changes include:
* More emphasis on leadership competencies such as decision-making, communicating, acting assertively, and influencing others and less emphasis on applying functional knowledge and self-management;
* Allocating more revenue to leadership and business-partnership activities and dramatically less to transaction processing; and
* Replacing the "best practices" goal of reducing the finance organization's costs to less than 1% of revenues with the goal of optimizing resources.
In the study, one group of controllers reporting to business-unit heads as opposed to the CFO or another financial executive was already beginning to fill the "business partner" role. Asked which competencies they thought would be most important in the future, the top three answers of this group were communicating, acting strategically, and influencing others. By contrast, controllers reporting to a financial executive ranked communicating fourth and did not include acting strategically and influencing others among their five most important competencies for the future.
"Because business-unit controllers are typically involved on a daily basis in helping unit managers make tough decisions that affect the bottom line, they place a high priority on acting strategically and team-building skills such as communicating and influencing others," said Jon Scheumann of Gunn Partners Research. "Also, in this kind of position, the controller's first loyalty is to the business unit, not the corporate financial organization."
Asked to identify companies they saw as exemplars or pacesetters for how the controller function should operate, the respondents most frequently cited Allied-Signal, Ford, General Electric, Hewlett-Packard, and Motorola.
Asked why they admire these organizations, their top four responses were people, 22%; cost-efficiency, 21%; business partnership capabilities, 19%; and "informative, insightful, impactful business information," 15%. Only 3% cited technology.
"There's a high degree of conflict between people and technology," Scheumann said. "In terms of priorities for improvement, the financial leaders cite technology No. 1 and people No. 5. But in terms of what they admire in leading controller organizations, they cite people No. 1." *
---
---
---
The CPA Journal is broadly recognized as an outstanding, technical-refereed publication aimed at public practitioners, management, educators, and other accounting professionals. It is edited by CPAs for CPAs. Our goal is to provide CPAs and other accounting professionals with the information and news to enable them to be successful accountants, managers, and executives in today's practice environments.
©2009 The New York State Society of CPAs. Legal Notices
Visit the new cpajournal.com.