May 1999 Issue
The
Changing Landscape
of Computerized Accounting Systems
By Susan A. Honig
In Brief
More Power and Greater Standardization
The world of accounting systems software used to be divided into two parts: the low end and the high end. This worked quite well before e-commerce, e-business, and enterprise resource planning came along. These, coupled with cheaper and more powerful computers, have given rise to a new breed of accounting systems beyond the high end. The good news, however, is that while the pricing of the new breed is not cheap, it is far less than the mainframe- and minicomputer-based systems that previously were needed to perform the same functions. Also, for the first time, database management within accounting systems is becoming standardized under the SQL-based client-server system. This means ease of movement for databases from one application to another.
The computer has revolutionized the way enterprises keep their accounting records. After transactions are recorded they can be manipulated, sorted, analyzed, summarized, and turned into financial statements with ease. The observer does not even know whether Luca Pacioli's double-entry concept is still being used. Accounting seems to be the perfect application for making the most of computing power.
As we face the 21st century and the third millennium, questioning what technology has in store for accounting systems is quite appropriate. With prices for consumer PC systems hovering around $600­1,000, and low-end accounting software priced at about $100, businesses can afford to have computerized accounting. But, are the old programs enough to run a business in the 21st century?
The Way It Was
In the 1980s and early 1990s, the broad-based PC accounting system market was divided into two major segments: high-end and low-end systems. There were a few mid-range accounting systems, but these were never big sellers.
The differences between the high- and low-end approaches were described in Wayne Spivak and Susan Honig's "PC-Based Client-Server Accounting Systems" (The CPA Journal, November 1997), in which the different marketing strategies used by software vendors in developing their client-server applications were described. Product stratification was based on several different criteria. The marketing departments focused on specific segments, which were dependent upon--
* operating system (DOS, Windows 3.1/95/98/NT, Mac, UNIX)
* networking capabilities
* user base
* price point
* programming style (client-server).
In addition, products could be compared by their robustness and functionality. The authors defined a robust system as one that is "powerfully built, suited to endurance, and marked by richness and fullness," and functionality as designed to achieve a "particular function or use."
As the Windows operating system, networking systems, database programs, and hardware became more advanced, the robustness and functionality built into both the low- and high-end systems increased. What was an acceptable level of features in a DOS-based system soon became substandard in the Windows environment.
With the domination of Microsoft products, accounting systems needed to work flawlessly with such technologies as OLE (object linking and embedding) and ODBC (open database connectivity). These new technologies led to the demise of the DOS-based accounting system and to the rise of the client-server and structured query language (SQL) platforms of today.
The Current Vogue
The PC-based accounting product has undergone dramatic changes in the past 18 months. Reasons for change are five-fold: First, the breadth of the PC market has been transformed by the use of the popular Windows NT operating system.
Second, the approaching Year 2000 problem has motivated software developers and equipment manufacturers to respond (albeit slowly). SAP AG, a leading multinational enterprise resource planning (ERP) software company, defines the problem as finding all date-sensitive code embedded in software programs across the company and manually or programmatically expanding all year fields from two to four digits. All affected data and databases must be examined and restructured.
PeopleSoft Inc., another major ERP vendor, notes some of the major problems that will occur in its white paper, The Year 2000: An Executive
Handbook:
* Inability to post entries or pay bills,
* Inaccurate interest calculations,
* Premature retirement of applications, and
* Incorrect aging of accounts receivable/payable.
In addition, some programs and applications that other accounting and security programs rely on may not work correctly. These programs might fail to calculate leap years, days of the week, and random numbers. PeopleSoft stresses that the problem lies "in today's environments of interconnected systems, [where] a single application, whether mainframe or client-server, can potentially corrupt an enterprise's entire information network by passing on a noncompliant date."
Third, the Maastricht Treaty on European Union instituted a single monetary unit for 11 member nations as of January 1, 1999. U.S. companies that do business in Europe had to modify their systems to accept the euro as a unit of financial measurement. European companies face the massive problem of restatement and the use of the euro and legacy currencies simultaneously.
Fourth, SQL-based client-server systems became the de facto high-end database engine. SQL has become the industry standard for database storage and information retrieval. Every high-end accounting system either has it or is integrating it into newer versions.
And last is the entrance of ERP vendors SAP, PeopleSoft, and Baan into the PC marketplace. As NT has made inroads into the large corporate and enterprise clients, these ERP vendors, looking to extend the marketing reach of their accounting packages, have ported (rewritten) their systems from mainframe and minicomputer to the PC Windows platform. Their entrance into the market has redefined the PC accounting marketplace and is setting the stage for accounting systems in the next century.
In addition, advanced PC-based technology, specifically Windows NT and SQL databases, is robust enough to accommodate the ERP functions that have become increasingly popular. ERP encompasses the entire enterprise, from human resources to material management. Previously, larger computers were needed to run and operate the necessary ERP computer programs.
SAP, PeopleSoft, and Baan have expanded their ERP solutions for multiple industries. This marketing focus now enables these vendors to sell the ability to control all aspects of the company's workflow with one seamless set of applications from a single vendor. These vendors have added a new high end to the PC accounting market.
The New Marketplace. Today the computer accounting industry has three major levels, with the mid and lower levels each split into two groups.
ERP vendors dominate the highest tier of accounting systems, where software solutions can start at $150,000. The mid level (where previously high-end functions are found), with software costs at $8,000­50,000, is divided into SQL-based systems and non-SQL­based systems. Lastly, the low-end systems, which still provide some bang for the buck, carry prices in the $100­5,000 range. This group is also broken down into two strata: the very low-end systems, and a class of "larger" systems that are more functional and robust but fall far short of the mid-level systems.
Another force at work is the introduction of e-commerce and e-business into the accounting systems mix. Most, if not all, mid- and high-end products provide some sort of communications interface with the Internet. Many of these interfaces are based on ODBC and the ability to have multiple software and hardware products communicate directly with the accounting system and its databases.
Even low-end vendors such as Peachtree offer an e-commerce module. Peachtree's PeachLink provides small businesses with the wherewithal to do business on the Internet. PeachLink allows the user to list products and services on the Web, take orders, and even receive payments.
The 21st Century Marketplace
Most of the major accounting systems manufacturers agree with the following view of the future accounting marketplace:
"In" technologies and systems
* E-commerce and e-business
* ERP
* Best practices
* SQL
* GUI front ends
* Web-enabled applications
* Extended enterprise solutions
* Value chain
"Out" technologies and systems
* Proprietary databases
* DOS-based systems
* Non-GUI front ends
* Enterprise solutions.
Internet-based Commerce. Commerce conducted over, through, by, or with Internet-related technologies will be the single hottest technology in the next decade. Vendors that responded to an e-mail survey all stressed a vision of e-commerce or e-business solutions. Each and every nonrespondent's website also stressed e-commerce or e-business.
A new feature in Quicken 99 exemplifies the attention that accounting vendors are paying the Internet. Quicken, the highly popular and simple to use home accounting system, now provides remote entry of transactions through the Web. This capability allows users of Quicken 99 to enter transactions through Intuit's (Quicken's publisher) site and store them for later retrieval.
The terms e-commerce and e-business, as used today, are not necessarily interchangeable. However, tomorrow they will merge into a single blended medium, making this form of transacting business even more widespread.
E-business has been defined as the exchange of goods and services using electronic means. Electronic data interchange (EDI) and electronic funds transfer (EFT) are examples of e-business primarily conducted at the commercial or wholesale level. E-commerce is the use of the Internet to conduct business. Amazon.com and online securities trading are examples of e-commerce at the retail level.
The use of SQL as the back-end database, and its ability to use ODBC as a methodology for transmitting information to and from other applications, makes using the Internet for business transactions easier than ever. Dell Computer Corporation currently handles $10 million in retail transactions per day over the Internet, according to Lettie Ledbetter of Dell Computer's public relations department.
The Baan Company, a leading provider of enterprise business software, recently announced support for Microsoft's SQL Server 7.0 product, creating a fully web-enabled product. Examples of other vendors supporting this product are Navision, Open Systems, Great Plains, J.D. Edwards, Macola Accounting Systems, PeopleSoft, Sage, Solomon Software, and SAP. AccountMate Software Corporation is an example of a company using Oracle's SQL server.
User Interface. With Windows as the preponderant operating system on the desktop, users are moving away from the DOS-based or text-based interface. Going one step further, many of the newest accounting ystems are employing web-based interfaces.
Hypertext markup language (HTML), Java, dynamic HTML (DHTML), extensible markup language (XML), and other technologies are slowly entering the accounting programming suite, to increase ease of use, customization, and the ability to "web-a-fy" the accounting system.
Enterprise Resource Planning. Lynne Stockstad, director of global marketing at Great Plains software, sees the back office application of ERP as follows:
This application category is the backbone of a strategic business management solution.... It typically includes fully integrated applications across financials, distribution, human resources/payroll, service management, and manufacturing. ERP solutions have predominantly been implemented by the Fortune 500 businesses. However, major mid-market vendors ... are now offering this full scope of ERP solution[s].
ERP leaders SAP, PeopleSoft, and Baan have, as stated, moved into the middle tier of businesses, breaking into the Fortune 500 and beyond. They have done this by repositioning and restructuring their current selection of ERP products to run on the mid-tier platform of choice, Windows NT.
Nevertheless, the former high-end accounting products, which have been reclassified by these ERP vendors, should not be discounted. As Stockstad stated, ERP and the creation of programs that support this system of management are on the wish lists of the now mid-level accounting systems.
Solutions which in the past cost in the millions of dollars can now be achieved for less than $500,000. This new accessibility to ERP allows information power that was not previously available to be used by smaller corporations. Solutions geared toward specific industry sets or implementation of management theories (such as best practices) foster tighter integration of the accounting, managerial, and operational functions of the business.
The addition of the Internet to ERP and e-commerce has morphed even this newfound jargon with a new glossary of terms, most notably the extended enterprise solution (EES).
Best Practices. Arthur Andersen defines best practices as "simply the best way to perform a process." The boom in ERP and e-commerce gives rise to the need to institute best practices, to both improve the bottom line and create an air of control over what is to be a new explosion in information. From accounting to marketing data, inventory control to depreciation schedules, it is the art of data warehousing that is enabling the small and large business to manage growth in changing economic times. By implementing best practices, from planning to implementation, companies are able to reengineer their business and maximize productivity. A best practice forces a reexamination of the business from all points of view, essentially requiring the corporate entity to redefine itself.
The largest mistake made during the implementation of a new accounting system, especially a manufacturing requirement processing (MRP) or ERP system, is to redesign the new system to work in the old environment. This is often done without a thorough examination of the effectiveness of existing procedures and an evaluation of where best practices can optimally be employed.
Structured Query Language. As mentioned previously, SQL is quickly becoming the database of choice. Vendors from Peachtree to Accountmate are rolling out SQL-based accounting systems, offering improved management of increasing amounts of data. The use of SQL standardizes the database aspect of these upper-end accounting systems. Before the acceptance of SQL, every vendor either used disparate database systems or created or modified their own database system. This made it difficult to share information with other systems located on shared resources.
Proprietary databases, in essence, kept the data of the accounting system hostage. "Accounting systems ... have been closed and proprietary," said Brad MacAfee of Peachtree Software. "Our research indicates that customers want to use their accounting information with other business productivity applications such as Microsoft Office to get this architecture." Other examples of software often integrated with accounting systems are Component Object Model, Sybase SQL Anywhere, Internet Explorer, C++ with Microsoft Foundation Classes, and Visual Basic for Applications.
Clearly echoing the sentiments of businesses and accounting vendors, SQL eliminates "proprietary" from the lexicon. ODBC, made simpler and no longer needing proprietary drivers to work, now makes data warehousing and mining available and relatively simple.
Other Operating Systems. A word of caution is in order: A Windows NT Server running SQL is not the only solution offered by accounting system vendors. While the majority of products from the major accounting vendors is indeed built around this operating system and database server, there are others. Vendors are also working in different operating systems (i.e., UNIX and Linux) and with other database vendors (i.e., Oracle). Both of these types of products (Oracle runs under UNIX and Linux) have advantages and disadvantages. Regardless of the operating system, both a Microsoft solution and a UNIX/Linux/Oracle solution offer excellent functionality and robustness.
"Out" Technologies
Again, according to my research, "proprietary" is no longer the buzz
word on technology street. Data held prisoner is data lost. Businesses need access to their information, and access needs to be granted to a variety of different technologies. DOS, so long the operating system behind the operating system, has fallen victim to its own limitations. Accounting systems created in this genre are not worth rewriting to be Y2K-compliant and will fall by the wayside. In addition, the ability to utilize the Internet is nonexistent with these older accounting systems.
This is also somewhat true of the text-based accounting system. While text-based web browsers do exist (Lynx, in the UNIX/Linux world), what makes web-based products so alluring is the ability to use pictures and color. These factors make the information shown to the end user easier to read and more effective in communicating certain concepts.
The Ruler of the Roost
Today, and most certainly tomorrow, ERP rules the roost, requiring CPAs' and businesses' accounting staffs to retool and reeducate themselves in this new management philosophy. ERP, best practices, and ad hoc SQL queries will exist not only in large enterprises but also in mid-sized companies. Forearmed and forewarned with this knowledge, colleges, universities, and professional societies should be gearing up to provide the necessary educational courses to enable professionals to ride this new wave into the next millennium. *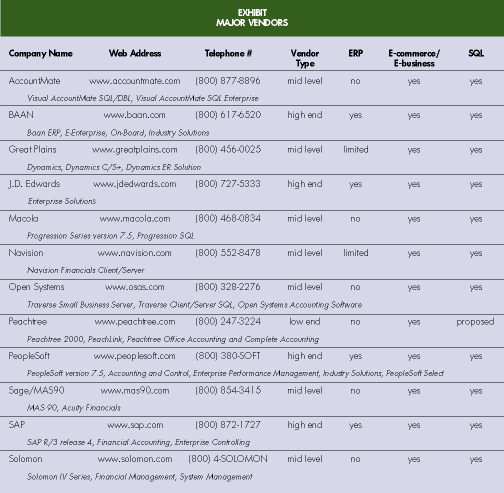 ---
Susan A. Honig, CPA, is an assistant professor at the Herbert H. Lehman College of the City University of
New York.
---
---
---
The CPA Journal is broadly recognized as an outstanding, technical-refereed publication aimed at public practitioners, management, educators, and other accounting professionals. It is edited by CPAs for CPAs. Our goal is to provide CPAs and other accounting professionals with the information and news to enable them to be successful accountants, managers, and executives in today's practice environments.
©2009 The New York State Society of CPAs. Legal Notices
Visit the new cpajournal.com.