April 1999 Issue
THE CPA MANAGER
Getting New Clients And Keeping Old Ones
By Amy Rummel, Sharon M. Davidson, and Daniel Acton
As part of a study of the importance of marketing in public accounting, a survey questionnaire was mailed to 383 randomly selected corporate senior accountants nationwide, using a directory of firms obtained from Dunn & Bradstreet. Corporate respondents represented a variety of industries with average annual sales of $1.476 billion (ranging from $4.5 million to $10 billion). The overall response rate was 24%.
Factors in Selecting a CPA Firm
We asked corporate respondents which factors were most important to them in selecting an outside CPA. Corporate accountants ranked personal integrity and meeting deadlines as the two most important factors in selecting an outside CPA. These were followed in importance by expertise in the industry, providing personal attention, and cost of services. The remaining items primarily dealt with the CPA's job performance, such as appearance of completed work, access to partners, returning phone calls, and staff personalities. The entire ranking of important factors is shown in Table 1.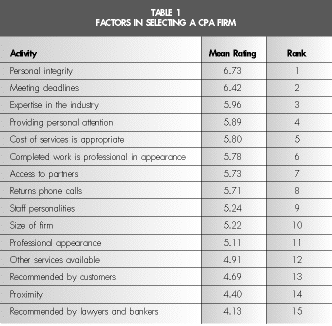 Factors Affecting Client Retention
The ability of CPA firms to retain existing clients was examined by asking clients how satisfied they were with their existing CPA. The assumption was that client satisfaction leads to client retention. A regression analysis with overall satisfaction as the dependent variable was used to determine which factors drove client satisfaction. Hence, satisfaction was a derived measure of client retention.
Table 2 shows the results of the regression conducted to identify those factors that lead to clients' satisfaction with their CPA firms. The ability of firms to meet deadlines significantly impacts clients' satisfaction, as does the ability of the clients to "work with" the firm's staff and the recommendation by lawyers and bankers. This last factor lends credence to the strength of word-of-mouth advertising and the weight placed on the recommendation of other respected professionals. These findings complement the results of Table 1, which show where these factors are also important in the decision of clients to select an outside CPA firm.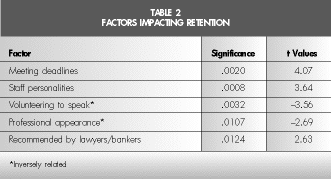 However, the regression analysis revealed two significant inverse relationships with clients' satisfaction: professional appearance and volunteering to speak at community affairs. These factors actually decrease a client's satisfaction rating. One possible explanation is that clients would rather have their CPA firm focus on providing services and not on what might be perceived as a facade (physical appearance), or superficial activity (speaking at organizations). Note that this result makes no judgment on the usefulness or effectiveness of these activities in obtaining
new clients.
Implications
Our research suggests that the factors most important in a potential client's decision to select a CPA firm are primarily those we have identified as core competencies in Table 1. The most important of these were personal integrity, meeting deadlines, expertise in the industry, and providing personal attention to the client. This implies that development of core competencies is highly important in order to obtain new clients. Some of these, such as a reputation for integrity and industry expertise, take years to develop. Others, such as meeting deadlines, appearance of completed work, and personal attention, can be achieved by implementing effective internal control procedures.
A client's decision to retain its CPA is highly correlated with meeting deadlines and the personalities of the firm's staff. In addition, this decision is influenced by the recommendations of the firm by other professionals such as lawyers and bankers. This suggests that firms should establish internal operational procedures to meet deadlines and assign staff members that are compatible with each client. In addition, CPA firms should seek to retain a positive image among other professionals from whom clients may receive recommendations. Also, they should carefully consider their emphasis on those activities that are negatively related to client retention (but may be positive in obtaining new clients), such as professional speaking engagements and providing free tips
and advice. *
---
Amy Rummel, PhD, is a professor of marketing, Sharon M. Davidson, CPA, an assistant professor of accounting, and Daniel Acton, DBA, CPA, a professor of accounting, all at Alfred University.
---
Editor:
John F. Burke, CPA
The CPA Journal
---
---
---
The CPA Journal is broadly recognized as an outstanding, technical-refereed publication aimed at public practitioners, management, educators, and other accounting professionals. It is edited by CPAs for CPAs. Our goal is to provide CPAs and other accounting professionals with the information and news to enable them to be successful accountants, managers, and executives in today's practice environments.
©2009 The New York State Society of CPAs. Legal Notices
Visit the new cpajournal.com.