March 1999 Issue
AUDITOR INDEPENDENCE: LOOKING FOR SOLUTIONS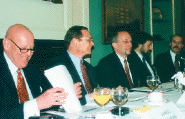 At a December 1998 symposium sponsored by The New York State Society of CPAs and The CPA Journal , the issue of auditor independence was explored from the viewpoints of the SEC and other parties to the financial reporting process that has made the U. S. capital markets the envy of the world. A full discussion of the symposium is presented in this month's CPA Journal . As was apparent from the symposium, opinions dif fer as to how the investor can best be assured that the auditor of public companies has conducted his or her audit with the appropriate independence. The Independence Standards Board is expected to resolve these differences and believes an important part of that will come through in its conceptual framework project currently
under way.
Is the airline industry, with its safety checks and accident investigations, the right model for auditor independence? Or should the model depend upon the disclosure of relationships, which lets the user decide for herself whether the auditor is independent for her purposes? Finally, what part does appearance of independence play?

This month's CPA Journal also includes two general interest articles. The first article describes how technology has made it easier to both perpetrate and deter and detect check fraud. PCs and laser printers are the perpetrators' tools, whereas bar-coding and other encryption devices are part of the protection. The other article covers open-book management. It is time for firms and employers to consider the advantages of opening the financial information to staff and employees. Proponents feel this creates a sense of purpose, an atmosphere of teamwork, and loyalty.
And, of course, this issue provides two tax articles, one on interstate taxation and the other on valuing gifts of interests in closely held businesses. A sixth article is designed for professionals that find themselves testifying as experts in legal proceedings. Author Robert F. Reilly lists a number of practical do's and don'ts that can help make every courtroom appearance successful. *
---
---
---
The CPA Journal is broadly recognized as an outstanding, technical-refereed publication aimed at public practitioners, management, educators, and other accounting professionals. It is edited by CPAs for CPAs. Our goal is to provide CPAs and other accounting professionals with the information and news to enable them to be successful accountants, managers, and executives in today's practice environments.
©2009 The New York State Society of CPAs. Legal Notices
Visit the new cpajournal.com.