December 1998 Issue
First Woman and First From Industry Assumes Chair of AICPA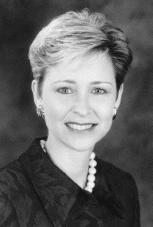 In October Olivia Kirtley assumed the chair of the board of directors of the American Institute of Certified Public Accountants (AICPA), succeeding Stuart Kessler. She is the first person from business and industry to serve in this capacity, as well as the first woman. One of her chief responsibilities will be to help oversee the implementation of the CPA Vision Process, a collaboration between the AICPA and state CPA societies. The process is designed to reposition the profession to meet the challenges of the next five to 10 to 15 years. Kirtley is also calling on the American CPA to think beyond the country's borders and consider the client service and business opportunities throughout the globe. "It's impossible to have a path to the 21st century without reaching beyond our own borders," she declared in her inaugural speech. "The reality of today's world demands we be a globally astute and globally involved profession."
Kirtley also addressed the need for greater diversity in the accounting profession, noting that it should reflect the demographics now prevalent in American business. She quoted from a report on the vision process to emphasize her point: "'The profession is committed to bringing together a vibrant variety of thought, perspectives, areas of practice and employment, geographies, ethnic backgrounds, and cultures as we move forward with the vision.'" Finally, Kirtley announced a program to increase the profession's visibility in the legislative process, saying the CPA must be involved "in public policy issues where our professional knowledge and competencies can make a contribution."
She cited Social Security reform as an example. "In areas like this, our tradition of protecting the public interest requires us to speak out where our valuable and unique insight can guide the debate with facts and objective analysis."
Kirtley is vice president and chief financial officer of Vermont American Corporation, a manufacturer and marketer of power tool accessories. Prior to joining Vermont American, she was a senior tax manager in the Atlanta office of Ernst & Young. Editor-in-Chief James L. Craig, Jr., interviewed Ms. Kirtley shortly after she assumed the chair's position. That interview is scheduled for publication in the February issue of The CPA Journal. *
---
---
---
The CPA Journal is broadly recognized as an outstanding, technical-refereed publication aimed at public practitioners, management, educators, and other accounting professionals. It is edited by CPAs for CPAs. Our goal is to provide CPAs and other accounting professionals with the information and news to enable them to be successful accountants, managers, and executives in today's practice environments.
©2009 The New York State Society of CPAs. Legal Notices
Visit the new cpajournal.com.