December 1998 Issue

MAKE YOUR E-MAIL POWERFUL
By Susan Coomer Galbreath and Jon A. Booker
Do you remember the good old days? You would scribble out a draft of your correspondence and pass it on to the proofreader, who checked it for spelling and grammar, and returned it for your review. After some minor editing, you submitted it for final preparation and it was out the door. Total time from start to finish--only a day or two.
Look at your correspondence today. You are out in the field with your laptop computer and can send a fax, check e-mail, schedule appointments, and work on documents. E-mail is an important part of your professional and personal life.
As with any new technology, new rules and conventions must be followed. Here are some basic and not-so-basic points to help make your e-mail messages more appealing and acceptable.
Before You Send the Message
First, determine if e-mail is the appropriate medium for your message. Remember, in an e-mail message the recipient only receives the words. A large percentage of your intent can be lost due to the absence of body language and tone of voice. As a result, e-mail messages frequently can cause misunderstandings between the sender and recipient. If you are dealing with a sensitive issue, an e-mail message may not be the best means of communication.
Preparing the E-Mail Message
Treat your e-mail messages as seriously as any correspondence you might otherwise send using snail mail. Recognize that while an e-mail message is privately delivered, the recipient can print the message or forward it to others without your knowledge. If a message is forwarded to an unintended party, the contents of the message could come back to haunt you.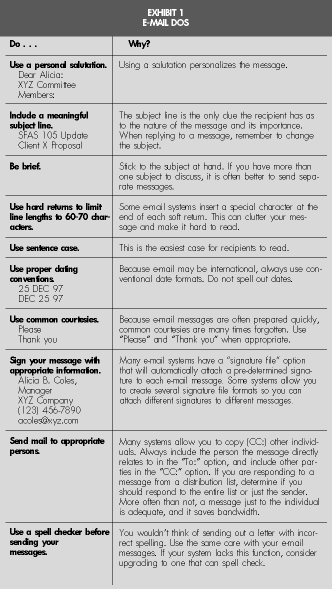 Exhibits 1 and 2 outline some basic dos and don'ts of preparing your message. In addition, here are some suggestions to help you better manage your electronic mailbox.
Check for Messages Often. One of the advantages of e-mail is how quickly you can contact someone. Failing to check your e-mail daily nullifies this advantage.
Be Sure Your System's Date and Time Are Accurate. The date and time of a message can be important to determine what information is most recent.
Keep Copies of Your E-Mail. Many times recipients and senders fail to print needed copies of messages. Having copies of messages can often save time and effort.
Delete Unwanted Messages. On the other hand, to save resources, you should delete unneeded messages. Consider moving old messages from your mailbox to a floppy diskette.
With all the advantages that e-mail offers, many of us jumped on the bandwagon without considering some of the unique aspects of this electronic world. Now, you are better prepared to write and send effective e-mail messages to your friends, colleagues, and relatives. *
---
Susan Coomer Galbreath, PhD, CPA, is an assistant professor of accounting and Jon A. Booker, PhD, CPA, a professor of accounting at Tennessee Technological University.
---
Editors:
Paul D. Warner, PhD, CPA
Hofstra University
L. Murphy Smith, DBA, CPA
Texas A&M University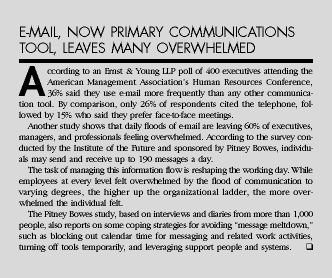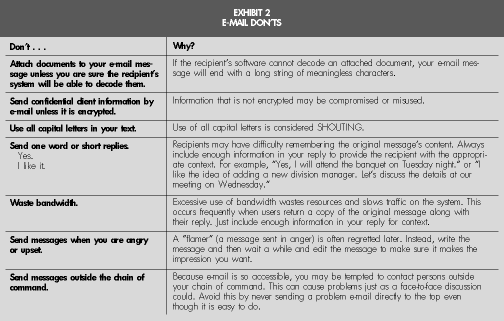 ---
---
---
The CPA Journal is broadly recognized as an outstanding, technical-refereed publication aimed at public practitioners, management, educators, and other accounting professionals. It is edited by CPAs for CPAs. Our goal is to provide CPAs and other accounting professionals with the information and news to enable them to be successful accountants, managers, and executives in today's practice environments.
©2009 The New York State Society of CPAs. Legal Notices
Visit the new cpajournal.com.