November 1998 Issue
MARKETING AND NEW SERVICES TOP CPA OWNERS' AGENDA
...but finding good people is still the number one concern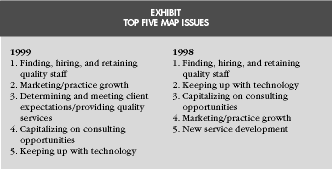 Developing and marketing new services is a major concern of CPA firm decision makers, according to the results of the 1999 "Top Five MAP Issues" poll conducted by the PCPS Management of an Accounting Practice (MAP) Committee of the AICPA. As the profession moves into new service areas, CPAs are recognizing the important role that marketing--long the realm of sneaker, soft drink, and automobile manufacturers--plays in the development of new business opportunities.
"We're seeing CPA firms incorporating a more client-focused business strategy," says Gary Shamis, Managing Partner of Saltz, Shamis & Goldfarb of Cleveland, Ohio, and chair of the PCPS MAP committee. "Clients are looking for more high-end consulting and advisory services. CPA firms are realizing higher profit margins in these value-added services. But along with higher fees come higher client expectations. So firms have to possess the top people, the latest resources, and the marketing expertise to meet the challenges of the marketplace."
The top five MAP issues list reflects a need for firms to be innovative and entrepreneurial (see Exhibit). According to Leslie Murphy, partner-in-charge, litigation support and business valuation services with Plante & Moran, LLP in Southfield, Mich., "Staffing is number one because people make or break our firms. In today's increasingly competitive environment, recruiters and competitors are aggressively courting our firm's top performers." Murphy suggests, "We need to let our staff know that they have plenty of options within the firm, outstanding earning potential, and a lot of flexibility about when and where they can work. It is critical for us to demonstrate that our organizations offer people successful, long-term career opportunities."
The PCPS MAP Committee, working with state society MAP representatives, asks participants from firms of all sizes to rank their top five practice management issues. This is the third year that the MAP Committee has conducted the poll, and the third year that staffing has topped the list. *
---
---
---
The CPA Journal is broadly recognized as an outstanding, technical-refereed publication aimed at public practitioners, management, educators, and other accounting professionals. It is edited by CPAs for CPAs. Our goal is to provide CPAs and other accounting professionals with the information and news to enable them to be successful accountants, managers, and executives in today's practice environments.
©2009 The New York State Society of CPAs. Legal Notices
Visit the new cpajournal.com.