November 1998 Issue
Just visit the site of Clikeman, Walden & Smith and see for yourself.
Designing
an Accounting
FIRM WEBSITE
By Paul M. Clikeman, L. Murphy Smith, and W. Darrell Walden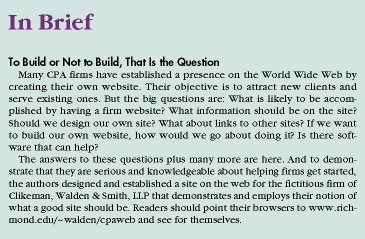 undreds of accounting firms have established websites hoping to attract new clients and improve service to their existing clients. A review of 131 websites belonging to small and medium sized accounting firms indicates that many lack the features necessary for success. Most websites list the firm's services and provide an e-mail link to contact the firm, but relatively few provide important features such as detailed descriptions of firm services, biographies of firm partners, free information (such as tips on taking advantage of the latest law or how to use the most recent accounting pronouncement), links to other websites, descriptions of employment opportunities, or electronic forms for inquiries.
To demonstrate these various features, we have developed the website for the fictitious accounting firm of Clikeman, Walden & Smith, LLP (CW&S). The website can be viewed at www.richmond.edu/~walden/cpaweb and puts into reality the suggestions and recommendations we have to make an interesting and effective website for a local CPA firm.
Website Goals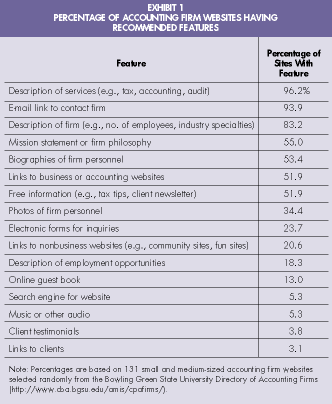 The possible features that can be included on a website are virtually unlimited. The first step in designing a website is determining its goals, then utilizing those features that can accomplish these goals. Exhibit 1 shows the percentage of accounting firm sites having various key features.
Before building the CW&S website, we decided on the firm's primary goals. Our top priority was to attract new clients to the firm. To attract new clients we needed to build an appealing website that would attract viewers and leave them with a favorable impression of the firm. We also needed to describe CW&S's services in a manner that would help potential clients see how CW&S could add value to the clients' organizations. Finally, we needed to distinguish CW&S from the dozens of other accounting firms offering similar services.
Our second goal was to use the website to improve service to CW&S's existing clients. One way to improve service is to use the site to distribute useful information such as newsletters, tax tips, and downloadable tax forms. Another way to improve service is to include e-mail links to each member of the firm so clients can directly contact their service providers.
Other website goals included reducing office expenses and recruiting new employees. We sought to reduce CW&S's postage expenses by distributing the monthly newsletter through the website and reduce long-distance telephone charges through increased use of e-mail. We also sought to attract talented employees to CW&S by including an employment section on the website.
Website Features
After setting the goals for our website, we started designing features to accomplish the goals.
Mission Statement. If an accounting firm does not already have a mission statement, the partners should write one before building the website. The mission statement introduces the firm to potential clients. The mission statement must create a good first impression of the firm and make visitors want to learn more about the firm's people and services. The mission statement for CW&S is included on the website's first page, which is shown in Exhibit 2.
A good mission statement states concisely how the accounting firm helps its clients and how the firm differs from its competitors. CW&S's mission statement emphasizes its commitment to the local community and its desire to help clients improve their efficiency and profitability. In a website, the mission statement can serve as a gateway to other parts of the site. CW&S's mission statement contains links to the firm's partners, staff, and services. Links within the text help draw visitors deeper into the website and direct visitors toward pages the firm wants them to see.
Description of Services. Many accounting firm websites offer superficial descriptions of services, simply listing items such as "accounting, tax, and consulting" without providing examples of work performed or describing how the firm's services can help potential clients. Many potential clients (and even some current clients) do not understand all the services an accounting firm can provide. To attract new clients, a website should describe in detail the firm's services, explaining how these services can add value. CW&S's site contains extensive descriptions of services. For each service, the website provides a description, examples of specific projects, an e-mail link to the partner in charge of the service, and an electronic form for requesting additional information. A potential client visiting the CW&S website can quickly find information about the firm's capabilities, and can immediately contact the proper person for a consultation.
Some clients are not aware that they might benefit from an accounting firm's services. A website can help potential clients assess their needs. CW&S's personal financial planning page contains a brief online interview where visitors can learn how they might benefit from the service.
To gain new clients, an accounting firm often must win clients away from competitors. A website should describe the accounting firm's advantages over its competitors. CW&S's audit page contains an online audit interview that poses questions about possible unmet service needs. Responses to the interview questions bring descriptions of how CW&S might provide audit services superior to those the visitor is currently receiving.
Biographies of Partners. An accounting firm's partners and employees are its most valuable assets. An accounting firm website should proudly display these assets by describing each partner's education, experience, and expertise. CW&S's site has a page for each partner describing the partner's background and current responsibilities.
Photographs personalize the website and improve its visual appeal. Many accounting sites contain formal and informal photographs of the firms' partners and staff. Image files load more slowly than text, however, so they should not be used to excess. CW&S's website contains a color photograph of each partner.
Choosing an accounting firm can be a frightening task for a client who knows little about accounting and taxes. Timid clients may feel more comfortable contacting a firm if the partners share some personal information (e.g., family data, hobbies, and community activities) about themselves. CW&S's partner biographies include information about spouses, children, and outside activities.
Free Information. Posting free information is one of the best ways an accounting firm can use its website to serve its clients. CW&S's site offers a section of tax tips and a section of business advice. These two sections demonstrate the firm's knowledge of tax and business and may entice prospective clients to contact the firm for additional (paid) advice. Offering frequent updates, such as a weekly tax tip, is an excellent way to get clients to return to the website after an initial visit. Making newsletters, brochures, and other information available on the Web may help an accounting firm reduce its printing and postage costs.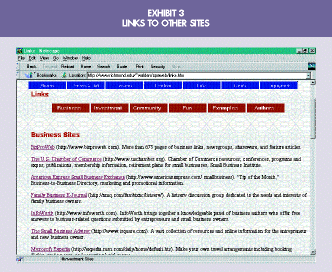 Links to Other Websites. Another way an accounting firm can serve clients through its website is to maintain a link page connecting clients to useful business and accounting websites. Links on the CW&S website are shown in Exhibit 3. A link page helps clients find valuable information and provides a reason to revisit the firm's website. CW&S's site contains links to business, investment, and travel information on the web.
Link pages need not be limited to business and accounting websites. Links to charitable organizations and community events demonstrate the firm's support of the local community. Links to humor and recreational websites demonstrate the firm's broad interests and unique personality. Consistent with CW&S's mission statement, the link page includes several links to Richmond-related websites. The link page also includes links to humorous websites such as "The Dilbert Zone" and "The Accountant Joke Page."
Client Testimonials and Links. Posting client testimonials in the website may help an accounting firm attract new clients. The testimonials provide concrete examples of the firm's ability to satisfy clients. CW&S's site contains testimonials from several clients. A good way to strengthen relationships with clients is to include links to clients' websites. Small businesses appreciate links directing viewers to their sites, and many will return the favor by adding the accounting firm's site to their link page. CW&S's website contains links to several of its current clients.
Employment Opportunities. Most accounting firms design their websites for clients, but potential employees are also important visitors. College students and experienced professionals frequently search the Internet for career opportunities. A high-quality website can help a firm attract technologically-minded professionals. CW&S's site includes an employment section that describes the firm's current openings. The section includes an e-mail link to contact the firm for more information and an electronic form for submitting employment applications.
Guest Book and Forms for Inquiries. A website's ultimate goal is to connect with potential clients. E-mail links, guest books, and electronic inquiry forms are three tools website visitors can use to contact the firm; the CW&S site contains all three. The footer, which appears on every page, has an e-mail link that visitors can use to contact the firm. In addition, each partner's page includes the partner's direct e-mail address. The CW&S header includes a button to the guest book, and the home page encourages visitors to sign in. Some accounting firms offer an incentive, such as a newsletter subscription or a free consultation, to visitors who sign the guest book. The CW&S website has an electronic form at the bottom of each service page that potential clients can use to request additional information or have a partner call them.
Appearance. All of the above features must be presented attractively to create a favorable impression of the firm. Internet search engines enable potential clients to view dozens of accounting firm websites in a matter of minutes. Background colors, fonts, and graphics must be tasteful, but should also catch the viewer's eye. Sites with a bland appearance may be skipped over, while those with poor quality graphics create a negative first impression.
Ease of Navigation. A good website must be easy to navigate. Viewers may become frustrated and miss important information if they cannot easily find what they are looking for. To make CW&S's site easy to navigate, we created a page header containing buttons to each of the major pages (e.g., partners and staff, services, employment). These buttons appear at the top of each page and make it easy for viewers to reach the page they want. For page groupings, we put buttons at the left side of each page to access related pages. For example, the partners section has buttons that allow viewers to go directly to each partner's biography. The CW&S website also has a table of contents to help viewers navigate. The table of contents shows each page in the site, and visitors can jump directly to any one. Finally, the site has a search engine that allows visitors to search for keywords.
Building the Website
Many accounting firms choose to hire a professional design firm to build their website. Before deciding, it is important to consider carefully the above comments and decide which features the site should contain. Many low-cost designers use standardized templates that may not contain all the features necessary to attract and serve clients. Alternatively, a custom designer may recommend fancy graphics and extraneous features that add cost but not value. It is essential that accounting firms set their website goals and decide on necessary features to accomplish their goals before negotiating with a designer. We also recommend viewing several of the designer's other sites to evaluate their quality. See whether the pages are attractive and create a favorable impression of the firm. Visit many pages in a site and determine whether it is easy to navigate and find important information.
Many accounting firms are able to design and create their own websites with a minimum of outside assistance. There are several advantages to building the site in-house instead of hiring an outside designer. The first advantage is cost savings. Web-authoring software can be purchased for a fraction of the cost of a custom designer. Firms that build their own sites may be in a better position to keep it current. Information in the website must be kept up to date; frequent updates give readers a reason to return regularly. Finally, the expertise gained through building a firm website may open up new practice opportunities. Many clients are interested in building websites and conducting business over the Internet. The AICPA believes that WebTrust assurance will be an important new service for accounting firms. In the very near future, many accounting firms will be expected to be knowledgeable about websites and electronic commerce.
Creating a website does not require specialized computer programming skills. Several web-authoring software packages such as Microsoft FrontPage and Adobe PageMill are inexpensive and user-friendly. These software packages have interfaces similar to word-processing programs. Furthermore, you can create a site using the editors that are included in web browsers such as Netscape's Navigator and Microsoft's Internet Explorer.
We created the CW&S website using Microsoft FrontPage 98. FrontPage 98 contains several setup wizards that help users design and build websites without having to learn HTML code. The Corporate Presence Wizard automatically created a home page, a products/services page, a table of contents, a search engine, and a guest book. At the home page, the wizard prompted us to enter a mission statement and a company profile. At the products/services page, the wizard asked us how many products or services we wanted to discuss and then prompted us to enter a description of each service. At the guest book, the wizard asked us what information we wanted to gather from readers and then created an electronic form to capture the desired information.
A big advantage of using the wizard is that it automatically linked each subsequent page to the home page and automatically created the table of contents. The wizard also prompted us to create a header and footer for each web page. We chose to place CW&S's logo and buttons on main pages in the header. In the footer, we put an e-mail link to contact the firm and the date the page was last updated. The header and footer appear automatically on each new page as it is created.
Entering content, text, or images into web pages is a simple, straightforward process. We entered much of the information by typing directly onto the web pages created by the Wizard. We also wrote some of the content on word-processing software and cut and pasted it onto the web pages.
To make the pages consistent and attractive, we selected one of the more than 50 themes included with FrontPage. Each theme includes a package of matching backgrounds, fonts, buttons, and banners. For example, the theme we chose has a blue background with maroon highlights. The blue buttons and maroon headings match the background. Using a packaged theme is a simple way to create an attractive website.
We obtained the website's graphics from a variety of sources. To create the CW&S firm logo, we selected a royalty-free photograph from a CD-ROM purchased from Digital Stock Corp. We used Adobe Photoshop to edit the photograph and add the firm name. For the partner pages, we used a color scanner to create graphic images from photographs of the three partners. We downloaded "The CPA. Never Underestimate the Value" logo on the bottom of the home page from the AICPA website (www.aicpa.org). Computer stores sell CD-ROMs containing thousands of clip art images that can be used to dress up a website. Additionally, there are many free clip art images available on the web (e.g., the icons and images available at Jon's html graphics archive: www.idt.ntnu.no/~bratseth/icons.html).
Effective Image Enhancer
People obtain information in a myriad of ways--newspapers, television, radio, telephone, fax--no wonder this is called the Information Age. Perhaps nothing since the Gutenberg printing press has revolutionized communication like the Internet's World Wide Web. While some people enjoy surfing the web and others loathe it, almost everyone has decided that the web is a fast, convenient way to obtain information about business products and services. An accounting firm can make effective use of a website to enhance its image in the community and to promote its services. *
---
Paul M. Clikeman, PhD, CIA, CPA, and W. Darrell Walden PhD, CPA, are assistant professors at the University of Richmond. L. Murphy Smith, DBA, CPA, is an associate professor and Leland Fellow at Texas A&M University. Professor Smith serves on the Webmasters Committee of the American Accounting Association and is an editor of The CPA Journal.
---
The authors thank Kim Joyce for her help creating the Clikeman, Walden & Smith, LLP company logo.
---
---
---
The CPA Journal is broadly recognized as an outstanding, technical-refereed publication aimed at public practitioners, management, educators, and other accounting professionals. It is edited by CPAs for CPAs. Our goal is to provide CPAs and other accounting professionals with the information and news to enable them to be successful accountants, managers, and executives in today's practice environments.
©2009 The New York State Society of CPAs. Legal Notices
Visit the new cpajournal.com.