Search

Software

Personal

Help
TUESDAY REIGNS AS MOST PRODUCTIVE WORKDAY

The next time you start an important business project, you might want to begin the work on a Tuesday, suggests a new survey sponsored by Accountemps. The workweek appears to have its own business cycles during which productivity exhibits peaks and valleys, and more than half of executives nationwide report the highest levels of employee productivity on Tuesdays. These results closely mirror those of a similar survey conducted in 1987.
Accountemps is a temporary staffing service for accounting, finance, and bookkeeping professionals. The survey was conducted by an independent research firm which polled 150 executives from the nation's 1,000 largest companies. For more details, see the accompanying chart.*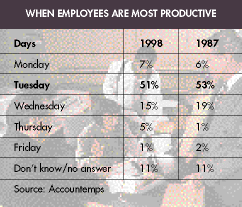 ---
---
---
The CPA Journal is broadly recognized as an outstanding, technical-refereed publication aimed at public practitioners, management, educators, and other accounting professionals. It is edited by CPAs for CPAs. Our goal is to provide CPAs and other accounting professionals with the information and news to enable them to be successful accountants, managers, and executives in today's practice environments.
©2009 The New York State Society of CPAs. Legal Notices