Filling some unique needs
Software for Nonprofit Organizations
By Anique Qureshi and Joel G. Siegel
Software for Nonprofit Organizations
In Brief
A Look at What's Out There
Nonprofit organizations have unique software requirements. Such organizations measure their success and report differently, may record expenditures earlier, and use fund accounting. Software packages that assist in managing nonprofit entities include those specializing in fund accounting, membership management, and fundraising.
In evaluating available software, purchasers should break the process into manageable parts, decide whether they need high- or low-end software, evaluate vendors and their documentation and technical support, and consider available tutorials, user interface, and data integrity.
The exhibit lists some of the major packages available for nonprofit organizations.
Presented are the characteristics of software packages specifically designed for nonprofit organizations (NPOs). NPOs that will benefit from this discussion include charitable organizations and foundations, religious institutions, schools, colleges and universities, trade associations, and state and local governments.
Accounting Needs of Nonprofit Organizations
NPOs need special accounting software for their unique requirements. Accounting software designed for for-profit organizations is a poor choice for NPOs. The accounting needs of NPOs are different from the needs of commercial or for-profit organizations in several ways.
Measurement of Success. A commercial organization measures its success by its net income; the larger the income, the better it is for the organization and its owners/shareholders. An NPO, on the other hand, measures its success by achieving its goals, not by increasing its income. A net income of zero is likely to be optimal for most NPOs.
Timing Differences. There may be a timing difference between commercial and nonprofit entities when recording expenditures. A for-profit organization records expenditures when expenses are incurred, usually when goods are bought or services are performed. NPOs may recognize expenses when commitments are made, typically through the issuance of purchase orders. These purchase orders are recorded as encumbrances, thus recording expenses when obligations are incurred.
Funds. NPOs generally have both unrestricted and temporarily and permanently restricted funds. Restricted funds are designated for a particular use and require special accounting treatment. An NPO's accounting system should be capable of tracking revenues and expenditures for each fund, and the accounting period for a fund may be different from the accounting period of other funds or the organization. NPOs may find it useful (or may be required) to maintain separate records for each fund and prepare operating statements for each program, grant, etc.
The reporting requirements differ between for-profit and not-for-profit organizations. For example, while both for-profit and not-for-profit organizations use budgets, for-profit organizations rarely publicize such information. NPOs, on the other hand, usually make such information public. NPOs also may have needs for reports of each fund. Restricted funds with separate accounting periods require additional reports.
Types of Software Packages
There are, of course, significant differences between NPOs. Each nonprofit entity has specific needs, and an analysis must be conducted to determine the type of information to be processed, how it will be processed, who will process it, and who will use it. Selecting the right software packages will improve an organization's productivity and enable it to serve its constituents more efficiently. A basic need of any NPO is a fund accounting package. In addition to fund accounting packages, NPOs should consider using fundraising software packages, membership/contact management software packages, and meeting or conference management packages. Software packages for the specialized needs of schools and universities, religious organizations, and state and local governments and their departments, such as law enforcement and police departments, are also available. For example, either stand-alone packages or add-on modules are available for functions such as property tax billing, utility billing, real estate appraisal, and many other applications.
Fund Accounting Software Packages. A fund accounting package should be up-to-date with the current requirements of the FASB, GASB, or the AICPA. The vendor should also be committed to updating the package as the regulatory requirements change. Typical modules in a fund accounting package include the general ledger, accounts receivable, accounts payable, payroll, and fixed assets. Some vendors provide additional modules such as purchasing and receiving. A flexible chart of accounts is essential. It should be possible to identify funds with special codes for departments, programs, branches, contracts, etc.
Other important considerations in an accounting package for NPOs are the ability to budget amounts, record encumbrances, do inter-fund accounting, and have multiple reporting periods.
Membership Management Software Packages. Membership management software is used to manage an NPO's main asset: its members. It consists of a database to keep track of members' names, addresses, personal profile, attendance records, financial history, etc. Demographic and statistical information can be extracted. Such information can make managing membership events and mailings to members very simple. It is possible to merge a standard form letter with the names and addresses of members and sort mailings to save on postage. Labels can, of course, be printed very easily. Data can be exported to word processing or other types of packages. Membership management software can be used to supplement an organization's fund accounting program. Detailed records of receivables, pledges, and contributions can be kept in the membership management program (like a subsidiary ledger), while summary information can be posted to the general ledger.
Fundraising Software Packages. Fundraising packages are used to maintain demographic information on members, donors, and potential donors. A complete personal and financial profile can be created. This information may be used to do direct mail or telemarketing. Many corporations participate in matched gift giving, and such software makes it easier to keep track of individual donors whose contributions may be matched by a corporation.
It should also be possible to keep track of the interest level of donors. Using the software, fundraising strategies can be formulated, and different means can be used to target different types of donors.
Evaluating a Nonprofit's Software Needs
Selecting computer software can be a complex process. While there is a great variety of software available, only a certain type may be appropriate for the NPO. Careful planning is critical to successful implementation. A detailed statement should be prepared that describes what the software should accomplish. The technical considerations of data processing include the number of reporting entities, desired reporting format, data storage and retrieval capabilities, and volume of transactions.
The Process. The software selection process should be broken into separate manageable parts. For example, the first part may be deciding what the software should accomplish, the second selecting the vendor, the third system implementation, and the last staff training. Feedback should be obtained from the NPO's staff and conflicts should be resolved.
Categories of Software. Software selection should be based on a requirements analysis. Given the requirements, the organization generally has a choice between three basic categories of software: low-end, mid-level, and high-end. The number of high quality low-end packages is rapidly increasing. Low-end packages can adequately process data for a small to medium-sized organization. They typically consist of one integrated package rather than separate add-on modules. They are also relatively easy to install and maintain. Major disadvantages include limitations on the number of transactions that may be processed. Documentation and technical support may be insufficient. The software's source code is generally unavailable, making it impossible to make modifications to customize the package.
High-end packages generally come in separate add-on modules. Source code is frequently available, making it easy to customize the package to meet the NPO's needs. Such packages are therefore generally more flexible and powerful. Many different types of reports can be generated and customized, usually through a report-writing module. It is even possible to combine data from several files to produce a single report. Technical support is available, but generally tends to be more expensive. It may also be more expensive to train staff to use and maintain high-end packages.
Mid-level packages are somewhere in between. While they may lack the flexibility of the high-end systems, they generally have more processing ability than the low-end systems. More extensive reporting capabilities are typically available in such systems and some customization may be possible.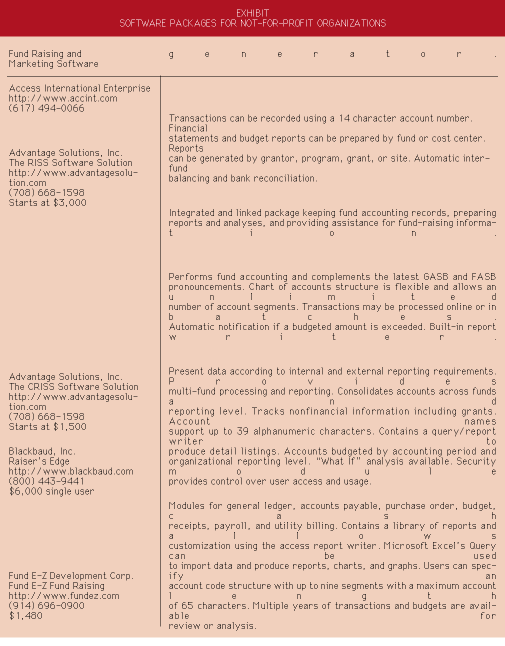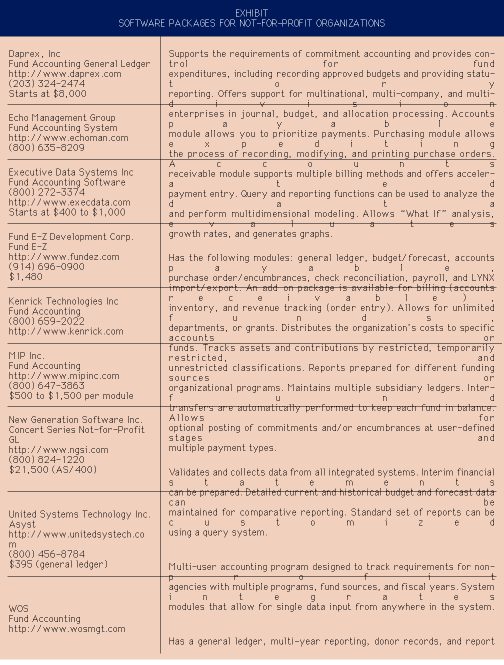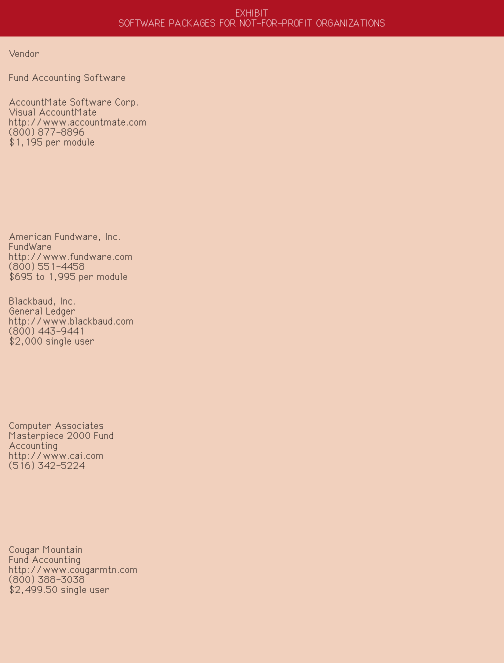 Documentation and technical support for a software package should be critical factors in software selection. Documentation is necessary to install and maintain the software, train staff, and to know what to do when errors or other problems occur. Documentation should be clear, concise, and easy to understand. Online context sensitive help for each field is also a very useful feature.
Many software packages include tutorials, some of which are nothing more than a computerized slide show. Interactive tutorial programs are the best since they encourage the user to become an active participant. Some packages include a video cassette or offer live classroom instruction.
Vendor history should be considered when selecting a package. The vendor should have a good reputation, been in business for a while, and have a reasonable market share. The vendor should provide sufficient technical support and have a history of keeping up with technological and regulatory changes by providing error-free software updates with reasonable frequency. The vendors' price policy with respect to updates should be considered; most vendors allow the users to purchase upgrades at a reduced cost.
If selecting a low-end or mid-level package, a vendor that also sells mid-level or high-end packages should be evaluated. This makes it easier to upgrade to a more sophisticated package as the organization grows. However, if a vendor is selected that does not have such a product line, the data importing/exporting capabilities of the software package become especially important. Data import/export capabilities allow interchange of information between word processing, spreadsheet, database and other types of software packages.
User interface is critical. Character based DOS programs can no longer compete with the graphical user interface of Windows. The advantages of Windows-based programs are significant. Windows programs have a similar look and feel; once a user knows one Windows program, it is very easy to learn another Windows program. Windows also gives you the ability to open multiple windows and perform multiple tasks at once. It is easy to use and its graphical interface reduces staff training costs.
Data integrity is another consideration. The software package should check for incomplete entries. In the event of a power failure or system lockup, the program should keep files from getting corrupted. Multiple levels of password security should be available. It should be possible to restrict users' access by company, module, function, field, etc. Some packages even password protect a user's access by day and time. A log should be kept by the program system of each user's activity, including information about when the user accesses a database, which functions the user accesses, and the date and time of access.
Networking is now prevalent in every organization. Few organizations have only a single stand-alone computer. Communication within and outside the organization is essential. Most software packages run in a network environment and allow data sharing. Software prices and licensing fees frequently vary based upon the number of users and are generally significantly higher for network packages compared to stand-alone packages.
The exhibit lists the vendor names, major software names and features, and the World Wide Web addresses and/or telephone numbers for major computer packages of interest to NPOs.*
Anique Qureshi, PhD, CPA, CIA, is an assistant professor of accounting and information systems and Joel G. Siegel, PhD, CPA, a professor of accounting and information systems at Queens College.
CERTIFIED SERVICE PROVIDER PROGRAM
Blackbaud, Inc., supplier of software for not-for-profit organizations recently announced a certified service provider of accounting professionals. Under the program, accounting professionals, after completing an application and interview, attend a five-day Blackbaud University course in Charleston, South Carolina. In addition to the training, Blackbaud makes available to the professional free software, documentation, and access to its customer support services.
Upon completion of the program, the certified service provider will be expected to partner with Blackbaud to provide accounting software and services to nonprofit organizations.*
---
---
---
The CPA Journal is broadly recognized as an outstanding, technical-refereed publication aimed at public practitioners, management, educators, and other accounting professionals. It is edited by CPAs for CPAs. Our goal is to provide CPAs and other accounting professionals with the information and news to enable them to be successful accountants, managers, and executives in today's practice environments.
©2009 The New York State Society of CPAs. Legal Notices