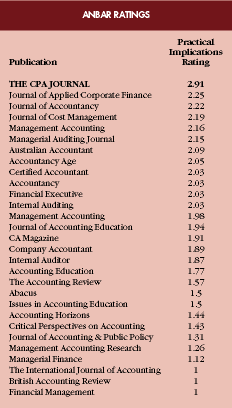 CPA JOURNAL OUTRANKS COMPETITORS IN PRACTICAL USE
The CPA Journal recently received the Anbar Golden Page Award of excellence for the top rating in practical implications among accounting and finance publications.
Anbar Electronic Intelligence, a leading UK-based online abstract publisher and analyst, compiled the award winners from an extensive review and accreditation process of over 400 management publications. A total of 44 awards were presented in four categories: research implications, practical implications, originality, and readability.
Publications are first selected by a board comprised of academic and corporate executives specializing in management, and then all articles from every journal are reviewed and assigned a rating from one to three (one is the minimum and three the maximum). The tables below indicate the overall practical implications averages for the 1996 volumes of a number of the publications reviewed in the accounting and finance topic. Results for all publications in other management topics and categories are accessible at Anbar's website at www.anbar.co.uk/anbar/excellence/home.htm. *
---
---
---
The CPA Journal is broadly recognized as an outstanding, technical-refereed publication aimed at public practitioners, management, educators, and other accounting professionals. It is edited by CPAs for CPAs. Our goal is to provide CPAs and other accounting professionals with the information and news to enable them to be successful accountants, managers, and executives in today's practice environments.
©2009 The New York State Society of CPAs. Legal Notices