THE CPA IN INDUSTRY
FROM "CORPORATE COPS"
TO BUSINESS STRATEGISTS
The time-honored role of management accountants is rapidly transforming from "corporate cop" and keeper of financial records to business advisor and company strategist, reports the first Practice Analysis of management accounting. The Practice Analysis, commissioned by the Institute of Management Accountants (IMA) and conducted by The Gary Siegel Organization (GSO), an independent opinion research firm, documented the work of more than 800 survey respondents--practicing management accountants from entry level to CFO--to determine what management accountants actually do and the knowledge, skills, and abilities (KSAs) they need to be successful. The Practice Analysis is expected to speed the evolution in accounting curricula by providing accounting educators with a tool to identify KSAs they need to emphasize.
The Practice Analysis found that while management accountants need a strong foundation in basic accounting techniques, they also need to apply that knowledge in new and innovative ways. Management accountants are now analyzing financial data rather than collecting it. And instead of simply preparing financial statements, they are becoming facilitators in the decision making process by interpreting those statements and communicating their
implications.
According to project director Dr. Gary Siegel, "the results show that the new business environment--characterized by cost management, continuous improvement, and advances in information technology--is having far-reaching implications for management accountants. Accountants in many organizations are major change agents and increasingly being asked to help managers understand the financial implications of alternative courses of action available to the company. Advances in information technology and reengineering have liberated management accountants from a narrow range of mechanical skills, and they are ideally positioned to provide value through sophisticated analysis, interpretation, and decision-making."
The work activities reported as "most important" in the Practice Analysis include using computerized spreadsheets, understanding the business, understanding bottom-line implications, understanding and preparing financial statements, and writing skills. The work activities that respondents think will increase most in importance for their company are indicative of the "new age" in management accounting. They are process improvement, customer and product profitability, systems and operations, performance evaluation, and long-term strategic planning. In addition, the Practice Analysis found that the most important KSAs are analytical/problem-solving skills, work ethic, and interpersonal and listening skills.
The Practice Analysis follows on the heels of a 1994 IMA/FEI study, entitled "What Corporate America Wants in Entry-Level Accountants," that demonstrated an "education gap" between the skills required for management accounting positions and the skills of newly-minted accountants. The IMA expects that the combination of these two studies will break down even more walls between academia and corporate America and further bridge the "education gap."
Practice Analysis Survey--Overview
The Practice Analysis compiles information collected from U.S. corporations regarding the work-related responsibilities of management accountants now, and in the future. The findings are based on a random sample of 4,000 management accountants from the membership of the IMA, AICPA, FEI, and IIA. The sample represents a full scope of management accounting positions from entry-level to CFO, in a cross-section of corporate organizations and resulted in a survey of more than 800 respondents from September to November 1995. In addition, in-depth interviews were held at nine leading edge corporations around the country. Sampling error is plus or minus 3.5%.
Key Findings
The important findings are shown in Exhibits 1, 2, and 3.
The research results of The Practice Analysis of Management Accounting
can be found at the Institute of
Management Accountants' Internet address: http://www.rutgers.edu/
accounting/raw/ima. *
---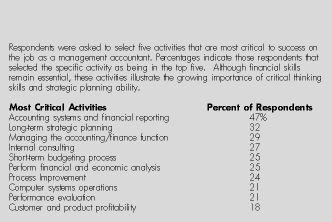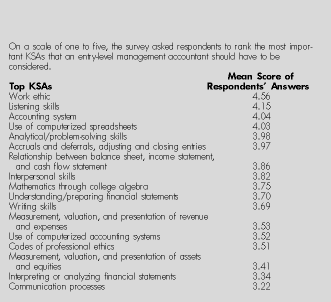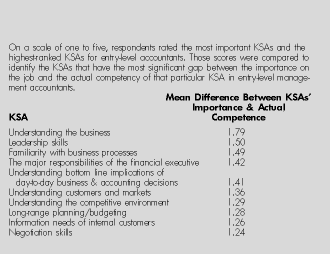 ---
Editor:
Michael Goldstein
The CPA Journal
---
---
The CPA Journal is broadly recognized as an outstanding, technical-refereed publication aimed at public practitioners, management, educators, and other accounting professionals. It is edited by CPAs for CPAs. Our goal is to provide CPAs and other accounting professionals with the information and news to enable them to be successful accountants, managers, and executives in today's practice environments.
©2009 The New York State Society of CPAs. Legal Notices